Caligula – the Movie
I don't even know where to begin with this movie. It's a cross between a legitimate Hollywood movie, and a porn movie. With a list of big name actors that include Malcolm McDowell, Helen Mirren, Peter O'Toole, Teresa Ann Savoy and several others, along with a script written by Gore Vidal, and directed by Tinto Brass, the movie should have been a huge hit.
The set pieces included a full size Roman Galley!!!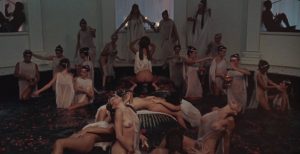 Unfortunately, one man was in the way. Bob Guccione, Penthouse Magazine owner. I'm not sure if he provided the seed money for this movie, but it ended up costing $16 million in ~1976 dollars. The product should have been amazing, but instead turned out to be crap. It became an embarrassment to everyone involved, even to Bob it seems. Between bad source material, too many people involved in the movie and terrible editing by Guccione, the plot is incomprehensible. I'm not sure if Guccione's added hardcore porn scenes were an case of trying to save the movie, or indulging himself.
Now a cult movie in it's own right, and having spawned one man's many decades of research, the key to this movie being on this site is it's numerous sex scenes. And the fact that many of the women in it were Penthouse Pets. Thirteen pets were brought in originally, two dropped out when they found out how much nudity (and at that point, possibly even sex,) was involved. Eleven of these women are credited in the movie, but at least seven more were flown to Italy at a later point to fill out the ranks of some scenes. Best guess is that over twenty Penthouse Pets were involved at one point or another, but the list will likely never be fully known.
Credited Penthouse Pets
Anneka Di Lorenzo
Bonnie Dee Wilson
Carolyn Patsis
Helen Lang
Henrietta Kelogg
Juliet Morris
Lori Wagner
Melanie Sutherland
Signe Berger
Susanne Saxon
Valerie Rae Clark
Uncredited Penthouse Pets
Anna Grimwood
Jolanta Von Zmuda
Terri Nunn
Other Actresses
Teresa Ann Savoy